Where Wright was Right and Wright was Wrong
I recently read The Fountainhead by Ayn Rand. What a great story about an architect—Howard Roark—who refuses to compromise his creative ideals or his personal values. In a biography of Frank Lloyd Wright, Brendan Gill discusses the comparison between Wright and Roark, and the common misconception that Rand based her character on the famous architect (Many Masks, pg. 490-492). After reading several biographies of Wright (and learning Wright was a colossal egotist), then visiting many of his homes (where I was overwhelmed by their timeless beauty), I have to agree: it's too bad there wasn't more in common between the man and the myth. But Wright's work, and especially his influence on architecture, will definitely outlive his personality.
Traditional design
Traditional architectural is dependent upon classical designs that date back thousands of years, to the Greeks and Romans. For centuries, our homes and buildings have been influenced by countless architects and artists—from Vitruvius to Palladio to Michelangelo, but almost all of them based their designs on historic styles, and classical orders.
Yet in one lifetime, Frank Lloyd Wright influenced architecture in a way no single man ever had; he changed the form of the homes in which many of us live; Wright's innovative work can be seen in diverse styles from modern open-plan designs to ranch-style homes. While it's regretful that Frank Lloyd Wright wasn't a better man, that he didn't care more about his clients' needs and the small details that make people comfortable, no one is perfect, not even Mr. Wright.
Examples of Wright's work
The first Frank Lloyd Wright home I visited was right here in Los Angeles, the Ennis House, one of Wright's "Mayan" designs.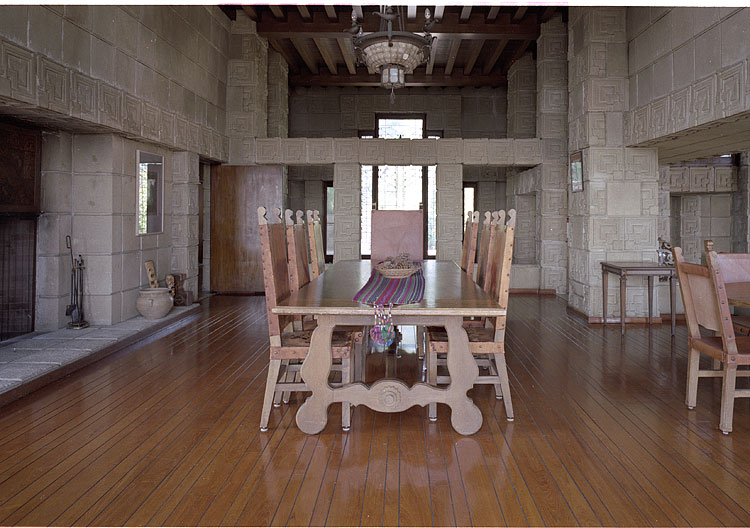 Even in these concrete-block homes Wright stressed horizontal lines over vertical rise, using long repeated rows of decorative block and extended headers over doorways—even piercing whole walls with low soffits. The house isn't currently open to the public, but hopefully it will be soon, after extensive renovations are completed—especially to the foundation. You see, Wright didn't grout the walls solid—not even the bond beams: the steel reinforcement bars rusted out—sometimes staining the block. A few of those walls are retaining walls, too. Sometimes Wright got it pretty wrong.

Another nearby home is open to the public, the Barnsdale House, which is designed with similar decorative concrete block. If you're ever in the area, don't miss seeing Wright's Los Angeles work.
A few years ago, while doing a JLC Live show in Chicago, the folks at Hanley Wood organized a tour for the entire JLC Live Crew—they took us in a bus to Wright's Robie House. Talk about stressing horizontal lines: even the brickwork was laid to emphasize the horizontal joints: all of the horizontal joints are struck and raked out deeply, but the vertical joints are flush, making them—as Gill notes—"nearly invisible." After visiting the Robie house, I read that the 'horizontality' of Wright's Prairie Style Homes originated with the endless 'horizons' of the Midwest—at least that's what Wright said. Except few of his homes were built on the prairie.
Greg Burnet did some remodeling work on Unity Temple and introduced me to that Chicago icon.

Even though the building required substantial height—it's a temple, after all, and replaced a Gothic Revival church that burned—Wright still tied the design together with horizontal elements. The main floor seems to float as you enter the temple, the ceiling rises past the upper pews, but long slender bands of horizontal molding break through the height; the pews add to the horizontal 'grounded' feeling inside the building. Like many of Wright's low-slope and flat-roof buildings, water was always a devilish problem for Unity Temple. The scuppers are still being repaired today—though this time with self-adhesive, self-healing membranes.

The same low-slope roofs and long horizontal lines—emphasized by extreme cantilevers, welcomes visitors to Wright's own home in Wisconsin. Unfortunately, the same problems with water damage are prevalent at Taliesin. While visiting the home, besides stained stucco soffits, we saw pots and jars spread around the floor to pick up roof leaks. And signs of rot were everywhere, from the windowsills to the rafters.
Falling Water
So what's all this have to do with Falling Water? Prior to Falling Water, Wright had a vision of homes built without "order," independent of the post-and-lintel structures that predate Stonehenge, and definitely independent of the classical orders that dominated architecture since the Chicago Worlds Fair of 1893.
Looking back while writing his autobiography, Wright said: "…Changes came along slowly because, to eliminate the post and beam as such (the old order), I could get no help from the engineer.  …Engineers reduce everything in the field of calculation to post and girder.  …The engineer had not yet enough scientific formula in any handbook to calculate at all for continuity…the "third dimension" (as I myself had been calling it" (pg. 85, Gill).
Acting as his own engineer, pursuing his vision of a new architecture, without order, where the horizontal planes of a home melded with the surrounding land and the horizon, Wright achieved his greatest success with Falling Water.